Important Information
Early Bird Registration Fees are closing soon
Early bird registration deadline is by Friday January 19, 2018. Early bird registration fee is 11,000 yen for regular attendees and 5000 yen for graduate students. After that, by Friday February 9, 2018, registration fee is 12,000 yen for regular attendees and 5500 yen for graduate students.
Start accepting requests for the errata of ESJ65 program
We accept the correction requests for the errata of the ESJ65 program. For more details, please refer to the webpage. The deadline is 23:59 (JST), Tuesday February 13, 2018.
ESJ65 registration is open
Now we are waiting for your registration for ESJ65. Please check the Registration page. We have closed the application for oral/poster presentation on October 31, 2017.
Greetings
Welcome to Sapporo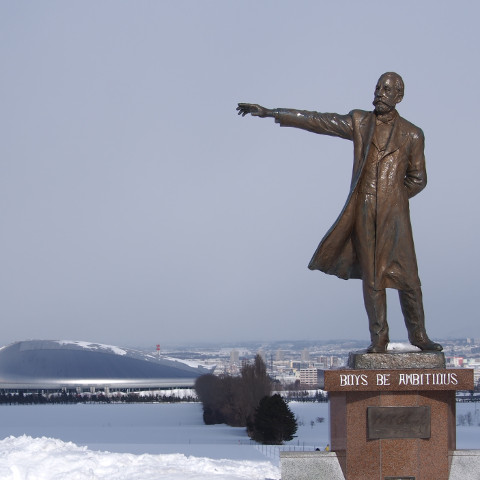 The 65th Annual Meeting of the Ecological Society of Japan (ESJ65) will be held for 5 days, from March 14 to 18, 2018 at Sapporo Convention Center. The venue has a good access, 17 mins by bus and 16 mins by Sapporo City Subway & walk from JR Sapporo Station and about 1 hour from New Chitose Airport. Along the Sapporo City Subway, there are several sightseeing spots, such as Hokkaido University Campus and Maruyama Zoo. You can also visit a large entertainment district Susukino in 10 mins by subway. The 'Genghis Khan' BBQ and soup curry are known to be local specialties in Sapporo. In addition, Sapporo is blessed with abundant fresh seafood, local sake produced with flavorful rice acclaimed to be enriched with climate change and hidden but excellent soba noodle restaurants. Near the ESJ65 venue, Sapporo Beer Garden is suitable to hold more deep discussion in a red-brick-furnished hall with tasty beer.
Hokkaido is a place filled with "frontier spirit". We hope you'll fully enjoy the great nature of Hokkaido after having intellectual stimulation in the meeting. It might be fun to go for spring skiing in Niseko Area, to go bird-watching in Utonai-Ko Sanctuary or Miyajima Swamp, to soak yourselves in several hot springs such as Jozankei, Lake Shikotsu, Noboribetsu, etc. or to visit historic sites such as Shimamatsu.
In cooperation with the Annual Meeting Planning Committee of the Ecological Society of Japan, the Organizing Committee of the ESJ65 comprised of the Hokkaido regional members of the ESJ, is preparing for fruitful meeting. A public lecture focussing on the ecological characteristics of Hokkaido will be held in this meeting. We are looking forward to seeing you in Sapporo.
Tsutom Hiura, Chair of the Organizing Committee of the ESJ65
Gaku Kudo, Secretary-General of the Organizing Committee of the ESJ65
The 21st Public Lecture of the Ecological Society of Japan"Life history of organism in extreme environment –hints to understand your neighborhood ecosystem–"
Sunday March 18, 2018
Conference Hall, Sapporo Convention Center
Sasaki, Takehiro
Grad. Schl. Env. Info. Sci., Yokohama National Univ.
I am studying the role of biological diversity in grassland, wetland, and urban ecosystems, particularly in the context of human-nature relationships.
KUDO, Gaku
Fac. Env. Earth Sci., Hokkaido Univ.
Area of speciality: seasonal adaptation of alpine plants, plant reproductive ecology, plant-pollinator interaction, and global change ecology. Researching in world-wide mountain regions. Main research site is in the Taisetsu Mountains in Hokkaido.
Osono, Takashi
Fac. Sci. Eng., Doshisha Univ.
My research interest is the ecology of fungi in ecosystems from tropical forests to Arctic and Antarctic tundra.
Watanabe, Yuuki
National Inst. Polar Res.
I am studying the ecology of fishes and seabirds by using modern biologging technologies.
Fujiwara, Yoshihiro
JAMSTEC
The deep sea is my research field. Whale-fall ecosystems and deep-sea top predators are my current hot topics.
Recent News
Now we are accepting proposals for symposia in the ESJ65. See Overview page for the details. Proposals must be received on or before 17:00 (JST), Thursday August 31, 2017.
Friday June 30th, 2017
Now we are accepting your entry for the ESJ65 English Presentation Award (EPA). See the ESJ65 EPA website for the details. Entry must be received on or before 23:59 (JST), Sunday October 1, 2017.
Friday June 30th, 2017
Previous
Next