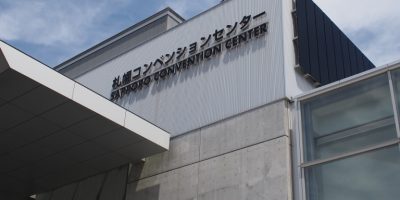 Venue: Sapporo Convention Center, 1-1-1 Higashi-Sapporo 6-jo, Shiroishi-ku, Sapporo, 003-0006, Japan
Open Google Map
From Central Sapporo to the venue
It is convenient for you to take Sapporo City Subway or JR Hokkaido Bus to go from the Central Sapporo to the Sapporo Convention Center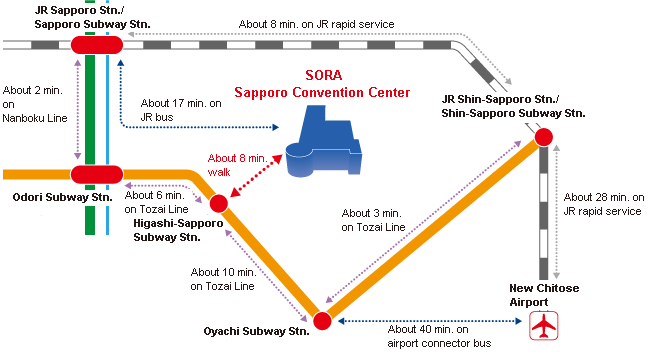 (Above figure is quoted from the website of Sapporo Convention Center)
Sapporo City Subway
The nearest station to the venue is Higashi-Sapporo station (T12), on Tozai Line. It is 8 mins. walk from the station to the venue. Higashi-Sapporo station is the third station from Odori station (Odori -> Bus Center Mae->Kikusui->Higashi-Sapporo), and it takes about 6 mins. A more detailed information about a route from Sapporo station to the venue is shown in the page, "Road to the Sapporo Convention Center".
JR Hokkaido Bus
There is a bus stop named "Sapporo Convention Center Mae" just besides the venue; however, only six buses are available on week days and only three on weekend. There is a "Chu-ou 1 jou 1chou-me" bus stop, 5 mins. walk to the east from the venue. There are about 4 buses per hour during the daytime.
From New Chitose Airport to Sapporo
The nearest airport to Sapporo is New Chitose Airport (CTS). The airport is connected to about 20 cities around the world. From the airport, it is convenient for you to use JR(Japan Railways) Hokkaido or bus.
JR(Japan Railways) Hokkaido
The Rapid Airport runs to Sapporo Station. There are four Rapid Airport trains per hour during daytime. It takes 36 mins. (fastest) and costs 1,070 yen. You can use prepaid transportation IC cards such as Suica and PASMO (see JR Hokkaido website for details). New Chitose Airport station is directly connected with the B1 (first basement) floor of the airport domestic terminal building.
Bus
There are seven bus routes from New Chitose Airport to several bus stops around Central Sapporo. It takes about 80 mins. and costs 1,030 yen if you go to the Sapporo Station by bus. Please refer to the Chuo Bus website for details.