Lunchbox order (advance booking and payment required)
Due to a limited number of eateries in and around the venue, it is possible that you are not able to have lunch in such a tight schedule. Lunchboxes are sold on March 15, 16 and 17 on the basis of advance booking and payment.
Tables and chairs are provided for lunch and a cuppa in the Main Hall (for poster presentation) and the Entrance Hall. Food and Drinks are permitted in the meeting rooms (except for Rooms F and S).
In Sapporo, snow could hinder going out for lunch even in March. Why not save time and treat yourself with a Japanese-style lunchbox to wind down (or up) from discussion on your research?
Menu
'Hokkaido Delights' lunchbox
available for the three days; 1,000- JPY (incl. tax)
☑Be spoiled with acclaimed salmon roe and Hokkaido beef!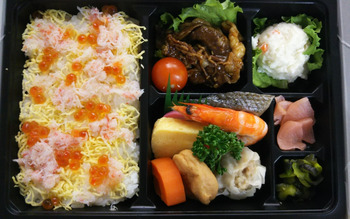 sushi rice with salmon roe, crab meat and stripped egg omelet
Hokkaido beef with tomato and leaf lettuce
shao mai (a Chinese dim sum)
salt-grilled salmon
stewed vegetables
boiled prawn
egg omelet (Japanese style)
potato salad
Vegetarian lunchbox
available for the three days; 750- JPY (incl. tax)
☑No meat or fish is used.
(Some meat or fish extract is used in the ingredients.)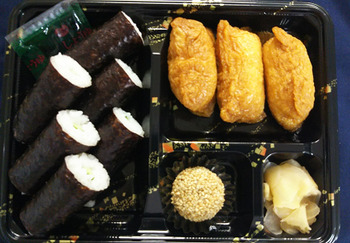 fried bean-curd stuffed with sushi rice ('inarizushi')
rolled sushi with cucumber
sesame dumpling (dessert)
pickled ginger
BBQ lunchbox
available on Thursday March 15; 800- JPY (incl. tax)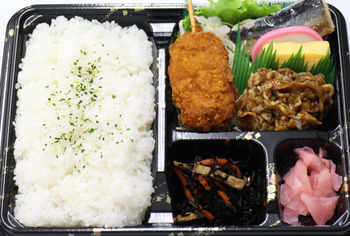 white rice
shredded cabbage
BBQ beef
mini pork cutlet
salt-grilled Pacific saury
egg omelet (Japanese style)
fish sausage ('kamaboko')
'hijiki' seaweed
pickles
Chinese-style lunchbox
available on Friday March 16; 800- JPY (incl. tax)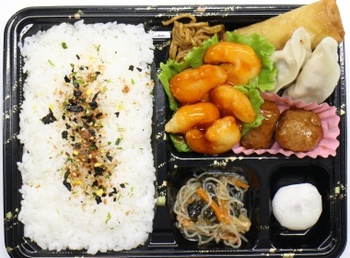 white rice
fried noodles
'jiao-zi' (dumplings)
spring roll
prawns in chili sauce
lettuce
meat balls
Chinese salad with vermicelli
small rice-cake dumpling (dessert)
Deluxe lunchbox
available on Saturday March 17; 800- JPY (incl. tax)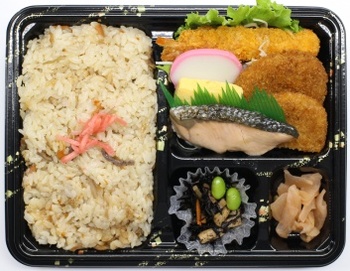 seasoned rice with vegetables
fried prawn
curry croquette
shredded cabbage/lettuce
salt-grilled salmon
egg omelet (Japanese style)
fish sausage ('kamaboko')
pickles
'hijiki' seaweed
☑Each lunchbox comes with a pack of green tea (250 ml). Price inclusive of the consumption tax.
(Contents may change, subject to availability of ingredients.)
Order
An order can be placed on the website between Thursday February 15 and 16:00 Wednesday February 28. Closed
Payment
Use bank transfer to pay for your order between Thursday February 15 and Monday March 5.
Any transfer fee should be paid by the payee.
If payment is not confirmed by Monday March 5, the order will automatically be cancelled.
Picking up your lunchbox
A lunchbox can be picked up between 11:30 and 12:30 at the clerk near the South Entrance (see the map below) with your name and the order number.
A barcode on a nametag (of the ordering person's) will enable a quick pick-up.
If a bulk order is placed, the ordering person needs to come and pick up with their nametag.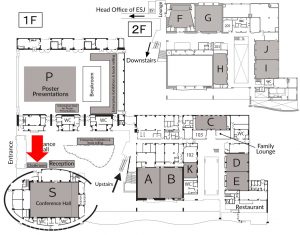 FAQ
Q1. Can I place a bulk order for my friends and colleagues who attend the conference together?
A1. The online order form can take multiple orders.
Please note that the Organizing Committee of the ESJ65 will hold no responsibility for errors in ordering lunchboxes (overlap or missing orders).
If you place a bulk order, the payment (bank transfer) needs to be made by the ordering person's name and he or she has to come and pick up the whole order. A different name may result in no order or lunch.
Inquiry
Any inquiry regarding the lunchbox should be made to
with your name and contact e-mail address.
If you do not receive a reply in three days, send the whole message again with in the subject header.